WHAT WE'VE DONE:
Promotional Videos
Website Design
Commercial Photography
Clothing Your Way is a family-run business based in Goodrington, Paignton. Established in 2016, their ethos is to provide exceptional products and customer care from concept through to completion and beyond.
We worked with Managing Director, Samantha Jenner, to capture her on camera describing her incredible business and also working in their production hub to create a new promotional video. 
After the video was produced, she approached us for a new website build and we worked closely with her to understand her vision for the final product. With a bespoke callback system, brand new portfolio section, new service description videos, and their new promotional materials featured throughout, it was a joy to work on this project. 
Samantha and her team have also completed our very own Focus Film Crew uniforms which are amazing quality, highly durable and very professional for our team. 
Clothing Your Way Promotional Video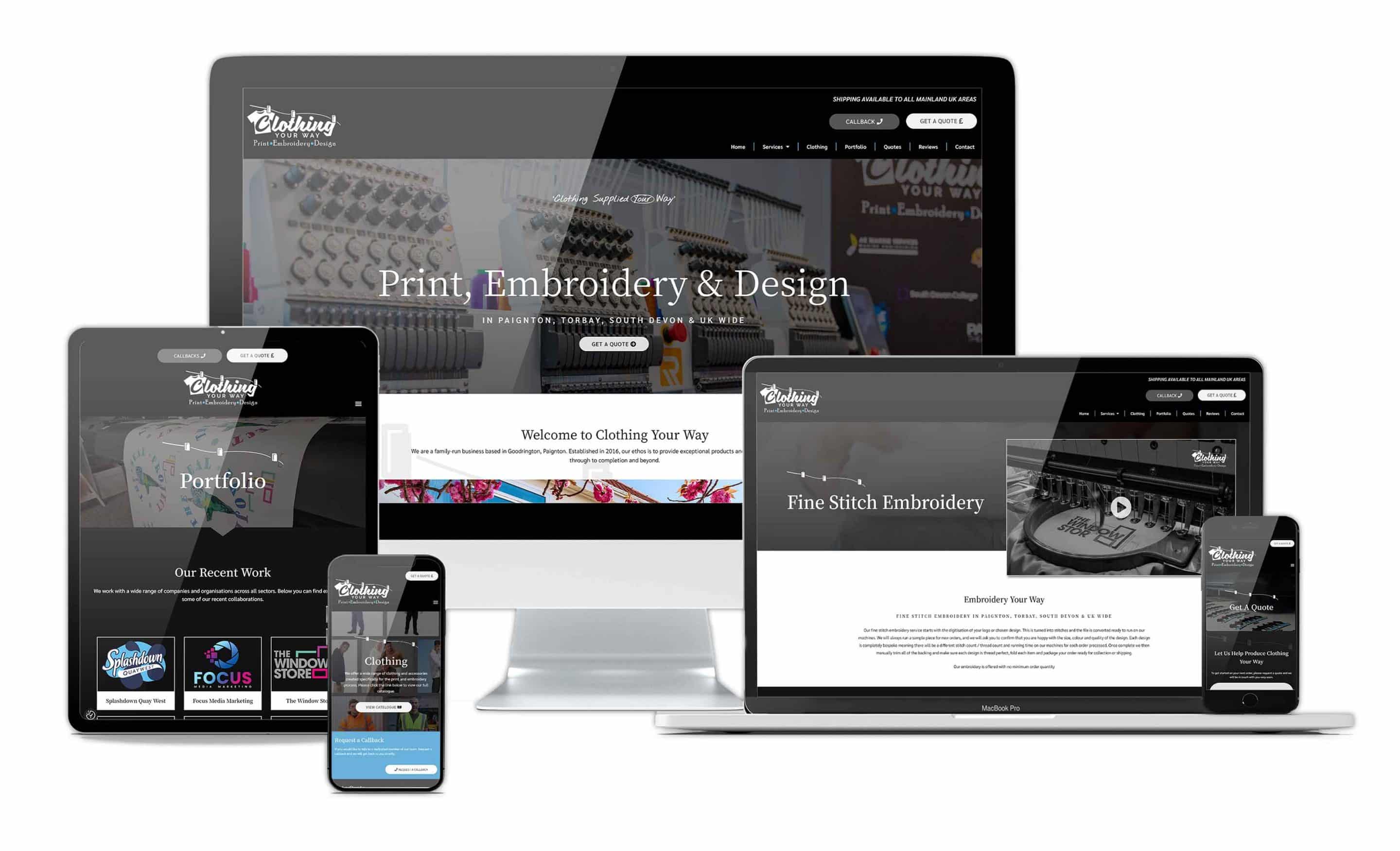 "Far exceeded my expectations…"
Initially Focus Media Marketing came to my business to photograph and film the processes and products to give my clients (and prospective clients) a better and more visual understanding of what goes on behind the scenes.
Anna and Paul were utterly incredible from the outset. They were friendly and professional and made a real effort to understand my business. They offered minimal disruption to my working environment and were genuinely interested in getting to know me and my business better.
They put me at ease both in front of and behind the camera and as someone that was extremely nervous at the thought of being on camera they made it fun and enjoyable throughout.
The final results were far better than i could have imagined. The videos were seamless, engaging and beautifully produced.
This then led on to them creating a whole new website for my business.
I couldn't have asked for more!
Anna just got it. Right from our initial discussions, she completely understood what was needed and during the build her suggestions and ideas were fantastic. She created a sleek, visual and immersive website that far exceeded my expectations.
The team were creative, professional and made me feel valued and important as their client. They genuinely care and become invested in helping you, making sure any queries are answered quickly, coming up with fresh new innovative ideas and they kept me informed of the progress at all times.
The end results speak for themselves. The site is easy to navigate, it showcases everything seamlessly and looks amazing. They have incorporated the videos and imagery they initially worked on for me and provided a stand out website that's both current and representative of my brand.  Everything Focus Media have done for me and my business has been exceptional and i can't thank them enough.
After only being live a couple of weeks, the new site is generating lots of interest. Sales have seen a marked improvement and it's all thanks to them!
– Samantha Jenner, Managing Director
Clothing Your Way Ltd